Unconventional Food Combos: Don't knock it 'til you've tried it!
At Penn Appetit, we're all for pushing the boundaries with food… and our stomachs. Here are some of my favourite unconventional food combinations, as well as a few on my bucket list. Suspend disbelief and judgment — I promise it'll be worth it.

Peanut Butter and Grapes

Think of this as the precursor of America's beloved peanut butter jelly sandwiches. Cut the grapes in half for maximum surface area coverage and slather on some creamy peanut butter.
Peanut Butter and Cheese

Jump further into peanut butter experimentation with this dair-ing combination. (Hah.) If that floats your boat, check out Martabak Ok's offering: an Indonesian pancake stuffed with peanut butter and cheese with optional add-ons, including condensed milk, Nutella and Ovaltine.
Cream Cheese and Honey on a Bagel

The tartness of the cream cheese goes so well with honey. This one has copped a few weird looks in the dining hall over the years.

Cheese and Chocolate

Old City's tapas restaurant Amada has an incredible cheese and hazelnut spread, but if you're not prepared to shell out for a fancy meal or wait until next restaurant week, grab some chocolate (dark choccy works particularly well) and dip it in some cheese fondue or pair it with hard and soft cheeses.
Apples and Salsa

~ Spicy ~ and ~sweet ~ adding a crunchy texture to your salsa. Mango is also a favorite!

Avocado and Condensed Milk

It also makes a delicious smoothie! Avocados are great sources of healthy monosaturated fatty acids. Add some condensed milk to satisfy your sweet tooth.
Hashbrowns / Tatertots with Soy Sauce

Homemade brunches with my mates often turn into experimental events…
Coffee with Pineapple

Joe's Coffee has a pineapple espresso that you can find at their University City and Rittenhouse Square locations. If you're hesitant to commit to a whole cup, try it at home!

Chips with Ice-Cream

My mates at home in Australia like to end their night out with a Macca's run to get their fix of chips and soft serve… together.

A few years ago Ben & Jerry's had a flavour called Couch Potato. It was a vanilla ice-cream with chocolate-covered balls of potato chips. So it's not a phenomenon limited to down under…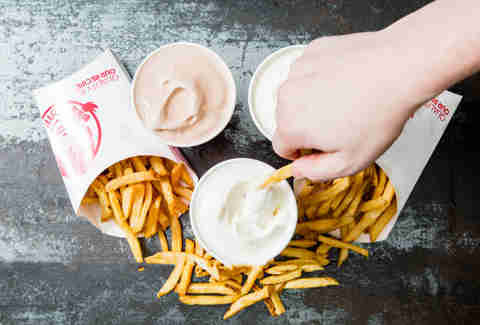 Chips on Bread

So you've tried chips with ice-cream and you're ready to take the next step. Grab some white bread, margarine or butter, and put some BBQ chips on top.
I believe this rendition derives from Brit's "Chip Butty" dish.
Fairy Bread: Hundreds of Thousands (Rainbow Sprinkles), Margarine and White Bread

Fairy Bread is a staple at Australian and Kiwi children's birthday parties.
Balsamic Vinegar and Strawberries

Next time you are in the mood for bruschetta, slap some ricotta on a slice of toasted baguette, top it with a few slices of strawberry, and drizzle balsamic vinegar or glaze on top. Peaches also work well!